Carpet Cleaning Services in Ottawa
When it LOOKS GOOD, it FEELS GOOD!
Good Lookin' Ottawa Carpet Cleaning Services uses a highly effective hot water extraction technique (most commonly known as steam cleaning) that's recommended by all major carpet manufacturers. We use a residue-free cleaning solution that leaves carpets looking cleaner, brighter and softer. Carpet fiber holds dirt deep down where you can't see it, regular vacuuming isn't enough. Regular hot water extraction service maintains the look of your carpet, extends your carpets life and keeps harmful allergens and toxins out of your home.
Carpet adds warmth and comfort to your home, but it also collects bacteria, dust, pollen and many more harmful particles. These dust particles and allergens pollute your air quality causing airborne allergens and toxins to travel throughout your home. Boost your homes hygiene and be proactive in your family's health by scheduling regular deep carpet cleanings.
Professional carpet cleaning is not only essential for your home or business but it's a requirement by many carpet manufacturers' warranties. Each household is unique in their needs for regular deep carpet cleaning Ottawa. For example, if you have kids or pets we recommend scheduling every 4-6 months. Our experienced, courteous and knowledgeable Good Lookin' Technicians ensure the job is done properly from start to finish making sure you are satisfied with your service.
Click on Rates for a complete list of services and prices.
---
Our Work Speaks for itself
---
Meet The Team
Here at Good Lookin' we like to let you know who you will be welcoming into your home!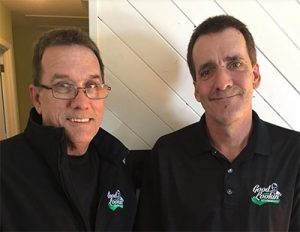 Gerry & Andy
Gerry and Andy are two brothers with over 30 years' experience in the industry! They both love helping customers and going the extra mile. Customer satisfaction and a top quality job are the most important thing for these guys. They get the job done no matter how long it takes! Ottawa Carpet Cleaning
"They call me the Stair-master, it's pretty funny, but I got the name because the stairs are my favorite part of the job. They're the most challenging because they see the most foot traffic and they're often one of the first things you see in a house. I love to make the stairs look like new" – Andy
"I've been cleaning carpets for over 35 years. I started and got my IICRC licence as one of the youngest protégés my trainer had ever had. I love this job because I get to help people keep their homes healthy and looking great!"
58 Binscarth Crescent, Kanata, ON K2L 1S1, Canada.
– Gerry